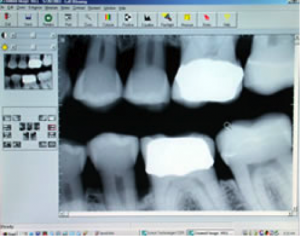 Over the last few years digital radiography has replaced film-based radiography as the global standard due to its many advantages. The most important of which are less radiation and greater efficiency.
The digital solution produces images instantly, which can be displayed on monitors in treatment rooms, saved in a patient's file and shared amongst dentists and orthodontists quickly over email.
This means it's now a whole lot easier for patients to get specialized dental treatments in cases where their own dentist or orthodontist may not have the necessary tools or experience.
Images are also often transmitted to health insurance companies to validate and get approval for advanced procedures.


Home About Us Services Technology For New Patients Contact Us Smile Gallery Testimonials