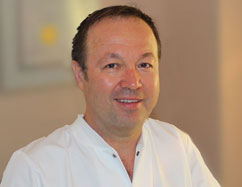 Dr. Ergun Senay has practiced dentistry since 1988. He has a true understanding of the need to provide patients with state-of-the-art dentistry in a warm, friendly, and compassionate environment. He believes that even a simple replacement of a tooth with an implant, a new denture, or veneers to replace fractured or discolored teeth can transform and improve a person's quality of life and personal confidence.
Dr. Ergun Senay, D.D.S., received his dental education at the prestigious New York University, College of Dentistry where he has also furthered his training by completing a two years post-graduate program in Implant Surgery and Prosthetics. He maintains the highest level of accreditation and pursues ongoing education to stay abreast of the latest trends in dentistry.
Dr. Senay takes pride in providing superior care for more than twenty-five years in cosmetic, implant, and general dentistry. He has a passion for cutting-edge technologies and adopts those which are proven to provide superior treatment outcomes and greater patient comfort. He is an expert in Cerec computerized crown, veneer, and implant systems.
Dr. Senay, is a member of the American Dental Association, American Academy of Cosmetic Dentistry, and International Congress of Oral Implantologists.
Dr. Senay enjoys traveling with his wife and two children. He also has a passion for technology, sports, and music.

Dr. Senay
150 East 56th Street, Suite# 1D New York, N.Y. 10022
Contact us today at (212) 755-5656 to schedule a consultation.
Home About Us Services Technology For New Patients Contact Us Smile Gallery Testimonials