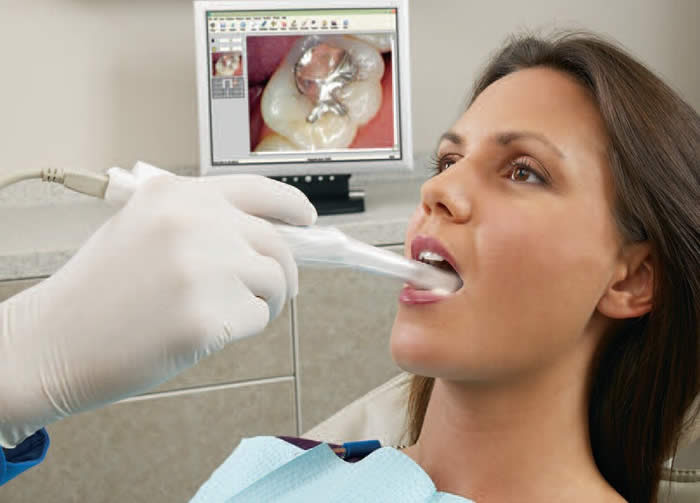 Intraoral cameras give you an insider's view into what's going on in your mouth. These cameras help us dentists explain where your problem teeth are and what options you have to take care of them. So you can have a better understanding of the state of your teeth and gums and play a more active role in making the decisions about how to treat them.
The intraoral camera is a small handheld device that's used with a disposable plastic sheath. It's able to take photos and videos and can be magnified up to 25 times to help identify any and all traces of tooth decay. Dentists will often use intraoral cameras to give patients a video tour of their entire mouths.
WHY WOULD YOU WANT TO SEE INSIDE YOUR MOUTH?
The value of seeing images and videos of the inside of your mouth extends far beyond just understanding why you may need fillings or other work done. Many people have found that these intraoral images have given them a powerful visual that inspires them to take better care of their teeth.
Images can also be kept in a person's dental health file and sent to other dental or orthodontic professionals to help diagnose problems or address needs quickly and easily. And with the high quality images and videos, you'll never miss a thing.
ADVANTAGES OF THE INTRAORAL CAMERA
Before intraoral cameras, you needed to rely completely on the word of your dentist. Nowadays you can make informed decisions and get actively involved in your treatment options. Patients now have more peace of mind and can feel comfortable asking any questions about their dental treatments.
Powerful intraoral magnification helps us identify deeper problems before they become serious, and take care of them quickly and painlessly. We also keep images to show you the progress during longer term treatments, and what your teeth look like before and after dental procedures.
Images have also proven tremendously helpful in providing insights into a patient's dental history. And are often used to provided health insurers with the validation they need to approve dental treatments.
We would be happy to demonstrate the advantages of our intra-oral camera at your next visit to the dental office.
Contact us today at (212) 755-5656 to schedule a consultation.
Home About Us Services Technology For New Patients Contact Us Smile Gallery Testimonials